Army Ranger, Featured in the "Black Hawk Down" film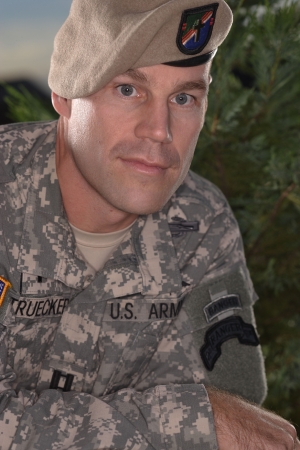 Jeff Struecker served with distinction as a Lead Ranger in the Black Hawk Down rescue mission in Mogadishu, Somalia, and was prominently featured in the book upon which the movie "Black Hawk Down" was based.

He served for ten years in the 75th Ranger Regiment. During this time, Struecker competed in the David L. Grange Best Ranger Competition for three consecutive years. His efforts culminated with a first place finish in 1996. He also served as an Assistant Instructor of Military Science at the University of Louisville and was recognized in 1998 as the US Army Reserve Officer Training Corps (ROTC) Noncommissioned Officer of the year.

Throughout his career Struecker has attended numerous professional military schools and has received many awards and commendations. Some of his awards include the Ranger Tab, Combat Infantryman's Badge, Pathfinder Badge, Master Parachutists Wings, Military Freefall Master Parachutist Wings, British Parachutist Wings, Thai Parachutist Wings, German Parachutist Wings, and German Sports Efficiency Badge.

His combat experience also includes participation in Operation Just Cause in Panama, Operation Iris Gold in Kuwait, Operation Gothic Serpent, and multiple tours in Operation Enduring Freedom in Afghanistan, and Operation Iraqi Freedom. His awards for actions in these imminent danger zones include the Southwest Asia Service Medal, Kuwaiti Liberation Medal, Global War on Terrorism Service Medal, Global War on Terrorism Expeditionary Medal, Armed Forces Expeditionary Medal, National Defense Service Medal and the Bronze Star Medal.

Captain Struecker was born in Fort Dodge, Iowa. He entered the Army as an enlisted soldier in September 1987 and remained on active duty until April 2000 when he was commissioned as a Second Lieutenant in the US Army Reserve.

A man of courage and conviction, Jeff Struecker uses his personal story of survival on the battlefield to teach his listeners how they, too, can be prepared for any circumstances life has to offer.