Former Head Football Coach, Florida State Seminoles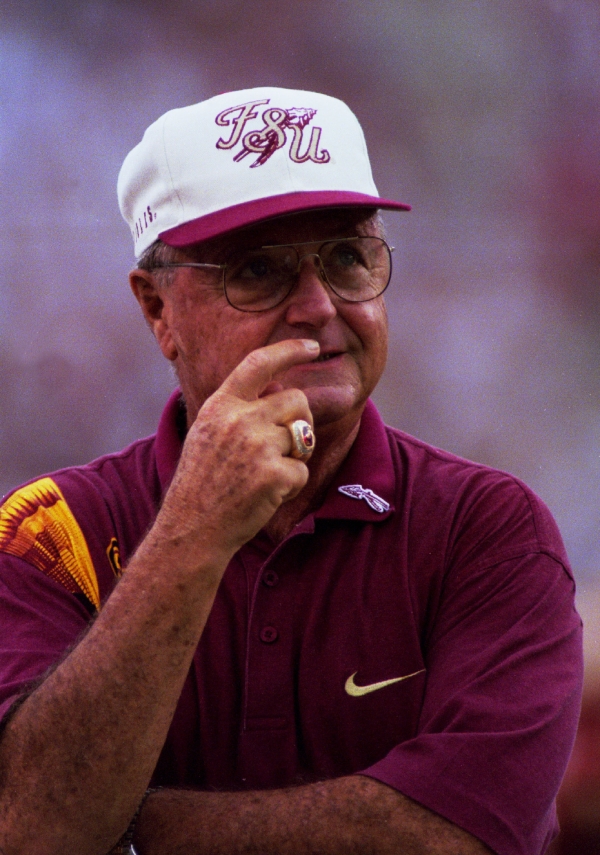 Among college coaches in any sport, few have achieved iconic status. Bobby Bowden certainly meets that criteria.
Bowden's historic 44-year career as a head coach reluctantly came to a close when Florida State met No. 18 West Virginia in the New Year's Day Gator Bowl. Counting this final Bowl Game with Coach Bowden, the Seminoles (6-6) were in postseason play for 28 straight years under his leadership.
Up to this game, Coach Bowden, 80, said he hadn't decided on his future and still had career options -- one of them being to remain the head coach. But after meeting with university officials, though, Bowden said the Gator Bowl would be his last game.  "Nothing lasts forever, does it?" he said. "But I've had some wonderful years here at Florida State. Hadn't done as good lately as I wish I could have, but I've had wonderful years, no regrets."
Bowden's accomplishments while building a powerhouse over 34 seasons in Tallahassee are staggering. Following several near-misses in the 1980s, he won national titles with the Seminoles in 1993 and most recently in 1999, when they went unbeaten and became the first to go wire-to-wire as the top-ranked team in the AP poll.
Another big achievement is a string of 14 straight seasons, ending in 2000, during which Florida State won at least 10 games and finished ranked in the top five. The Seminoles were 152-19-1 in that span.
He had a 315-97-4 record with Florida State. "Bobby Bowden in many ways became the face of Florida State. It was his sterling personality and character that personified this university," president T.K. Wetherell said.
Including stints at Samford and West Virginia, Bowden won 388 games, trailing only Penn State's Joe Paterno in wins among all NCAA football coaches. Rest in peace, Coach. We miss you.