A. C. Green, LA Lakers' NBA Iron Man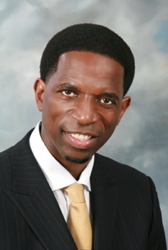 A. C. Green -  A.C.'s heart is dedicated to working with youth, and in 1989, he established the A.C. Green Youth Foundation. Through his abstinence curriculum, leadership camps, and web site, A.C.'s mission is to help young people build self-esteem and character, and learn moral and ethi-cal principles which will help them make responsible decisions.

A.C. has made speaking appearances across the world, and has appeared on television and radio programs including Oprah, The Today Show, Good Morning America, 20/20, Rush Limbaugh, Donahue, The Montel Williams Show, and The O'Reilly Factor.

A.C. Green spent 16 seasons in the NBA, winning three championships with the Los Angeles Lakers (in 1987, 1988, and 2000). A.C. also played with the Phoenix Suns, Dallas Mavericks, and Miami Heat.

During his career, A.C. played in 1,192 straight games, earning the title of the NBA's Iron Man. He was the Lakers' first-round selection in 1985, 23rd selection overall. He was selected by NBA coaches to the league's all-defensive second team in 1988-89, and was voted by fans as a starter for the 1990 NBA All-Star Game.
A.C. attended Oregon State, and graduated with a degree in Speech Communication. During college, A.C. was a third-team All-American as a senior, and the 1984 PAC-10 Player of the Year.